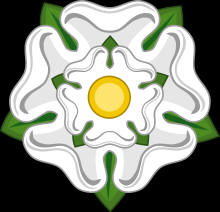 Butterfield Family
Shipley - West Yorkshire
Includes genealogy concerning Butterfield, Hullah, Sutton, with reference to Nicholson, Leach, Rhodes, Crabtree.
In the area of Haworth (Worth Valley), Keighley and Bingley in the County of West Yorkshire.
Our family live in an area of Shipley called Nab Wood, which is close to the boundary with Bingley. Shipley, in common with many towns in West Yorkshire, was involved in the worsted trade, but like the other towns and cities, the worsted trade has almost disappeared. Many of the large mills have been demolished, but others have survived and have been converted into offices and apartments. One of the few attractions in Shipley is the unique mill village of Saltaire along with its massive mill. These were built by Sir Titus Salt. The mill village has been awarded World Heritage Site status. Close to Saltaire village is Shipley Glen which leads to open countryside and the moors, including Ilkley Moor, imortalised in Yorkshire's "national anthem" Ilkla Moor B'at 'at
Butterfield Family Tree
A brief description of our family tree
BUTTERFIELDS have lived in the area surrounding the town of Keighley, West Yorkshire, for many centuries. There is mention of a Wm. de Boyville of Sutton-in-Ayredale (now Sutton-in-Craven), at an Inquisition in 1304. Butterfields almost certainly came over following the Norman invasion of 1066. The name Botevyle occurs in the Battle Abbey roll. The estate of Bouteville was near Carentum, in Normandy, a town at the mouth of the River Tante, where are yet to be seen old fortifications, a castle and a curious Norman Church
Adam de Butterfeld of Newton in Bowland and Robert de Butterfeld of Slaytburn (Slaidburn), were both paying the Poll Tax in 1379. In 1397 Robertus de Butterfeld is paying Poll Tax in Slaytburn and in nearby Hammerton, Willelmus de Butterfeld and Johannes de Butterfeld were also paying Poll Tax. It is in this area, the Ribble Valley, some thirty miles from Keighley, that the Butterfields were said to have originally prospered. The area around Slaidburn was originally in Yorkshire but, since boundary changes in 1974, has become part of Lancashire.
Butterfields from Keighley, were part of the 47 man Craven contingent which fought at the Battle of Flodden Field in 1513. (John Butterfield, bill and William Butterfield, bow).
Although not generally a common name, in 1846 Butterfield was the fifth most common surname in the Keighley area with 50 families bearing the name. In the 1891 census for Bingley, the next town to Keighley, there are over 100 Butterfields listed (55 males). What has not helped in tracing my ancestors is the number of John Butterfields appearing throughout the records. Also the habit of children being named after the brothers and sisters of their father. This results in Christian names being repeated in a short time span.
My mother's maiden name was Hullah, an unusual name. I was told it referred to a person from Hull. Her family were blacksmiths and her father and grandfather came from Pateley Bridge, North Yorkshire, near Harrogate. Pateley Bridge was a centre of lead mining up to the late nineteenth century. The Hullah family moved to Keighley around 1870. I believe they could have worked as blacksmiths in the lead mining industry and left the Pateley Bridge area when lead mining went into decline. In the 1891/1901 John Hullah (born 1828) was a farmer and in 1901 was farming at Newsholme Dean, near Keighley. It is a coincidence that John Hullah (my great-great-grandfather) was, in 1901, living at Newsholme Dean and Thomas Butterfield (my great-great-great-great grandfather) had died at Newsholme in 1779. Another coincidence is that John Hullah's son John married a Mary Jane Butterfield.
In the 18th and 19th century my ancestors (Butterfields) were employed in the wool trade as weavers and woolcombers in Keighley's Worth Valley. One line of the family became successful mill owners and businessmen, accumulating great wealth and living at Cliffe Castle, in Keighley. Henry Isaac Butterfield built the "castle" on the site of a previous property, lavishly furnishing the interior. He spent most of his time in America and France, and it was his son Sir Frederick who was to make it his permanent home. To find the common ancestor linking Henry Isaac to myself I have to go back to 1760. Nevertheless, the story of this branch of the Butterfield family is fascinating. The growth of the Industrial Revolution in Britiain enabled them, through hard work and enterprise, to become one of the wealthiest families in the Keighley area.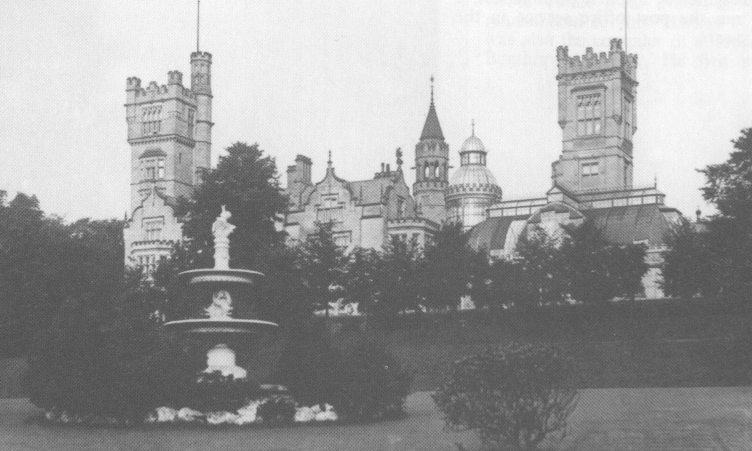 This photograph shows Cliffe Castle, Keighley, as it was when the Butterfield family lived there. Eventually the building fell into disrepair and was converted for public use. The right-hand tower was demolished and the one on the left reduced in height, the top storey of the main range was removed and repairs carried out. Some of the lavish interiors of the reception rooms have been recreated. The castle is still an imposing building and is open to the public as a museum.
The Butterfields of Cliffe Castle
The Butterfields of Cliffe Castle were descendants of John Butterfield, a weaver, and Mary Sharp, who lived at Upper Scoles (now called Higher Scholes), near Oakworth, Keighley. They were married at Keighley Parish Church on July 10, 1760. Among their several children were John jnr - my great great grandfather- and Isaac (born 1766). Isaac married Hannah Sugden (a good old Keighley name) and they lived at Lane Ends, Oakworth. They had three children Isaac, John and Ann. Isaac became a maker of stuff pieces and John a wool stapler. John would go regularly to the East Riding of Yorkshire and to Lincolnshire to purchase his wool, buying it principally from farmers in those districts. The wool was brought in boats to the canal warehouse at Stocksbridge on the outskirts of Keighley. John died unmarried at the age of 35. In his will he left £25,000 mainly to his brother Isaac who added John's wool staple business to his own. Isaac had married Sarah Shackleton of Green Top in 1810. They had seven children - one girl and six boys. One boy Isaac died in infancy.
Each of the sons were taken into the business and on the death of Isaac in 1833 the business became Butterfield Brothers . The eldest brother, Richard, decided to expand the business by exporting to America. The two younger brothers Henry Isaac and Frederick eventually going to New York to look after the export side of the business. This involved not only selling worsteds, but also acting as merchants for other manufacturers. By the 1850s the firm had premises in Bradford, the centre of the worsted trade, as well as mills in Keighley, Haworth and Stanbury. Business in the United States thrived and the two younger brothers continued to acquire land and make investments there. Both married Americans and by 1874 Frederick's family were well established in America. He eventually died in France (1883) leaving a fortune.
Henry Isaac Butterfield married Mary Roosevelt Burke, a relative of Theodore Roosevelt. Henry was 35 and Mary 16. The couple settled in France, buying a home in Paris and a villa in Nice. They were accepted in French Society and Mary was presented at Court. They had two children, Eugenie Doria, who died whilst an infant, and a son born in 1858 who was baptised Frederick William Louis d'Hilliers Roosevelt Theodore Butterfield. Eventually Frederick would be knighted in 1922. Sir Frederick married Jessie Ridgeway and they had a daughter, Marie-Louise Roosevelt who succeeded to the estate on her fathers death in 1943. She married Captain Gervase Pierrepont. Marie-Louise eventually became the Countess of Manvers living at Thoresby Hall, Nottinghamshire, the historic home of the Pierrepont family. She died in 1984. Eventually the family sold Cliffe Castle to Keighley Corporation
The original building was called Cliffe Hall. It was built for Christopher Netherwood who lost possession when he had financial problems. The Butterfields became sitting tenants and eventually purchased the hall. Eventually Henry Isaac Butterfield inherited the hall and began a massive building project and in 1878 changed the name of the hall to Cliffe Castle. On Henry Isaac's death his only son, Frederick, succeeded to the estate and made it his principal home. When he died in 1943 his only daughter Marie-Louise took possession. She was already married and living at Thoresby Hall, in Nottinghamshire. In 1949, having no need of the property, she sold Cliffe Castle to the local authority. All the contents were disposed of and the Castle ceased to be a private home.
Many of the Butterfields in Keighley were descendants of John Butterfield and Mary Smith
of Oakworth Hall
John Butterfeild* married Mary Smith 1696 at Saxton in Elmet,Yorkshire.
Children:
Isabel baptised December 18 1699
Mary baptised February 1 1702
Ann baptised February 4 1705
Suzannah baptised June 30 1707
Isaack baptised January 20 1710
John baptised October 12 1712
Abraham baptised August 21 1715
Thomas baptised February 12 1718
Anne baptised June 19 1720
*John buried March 8 1731 Keighley Parish Church. Lived at Oakworth Hall and described as a husbandman.
Thomas Butterfield married Alice Smith on December 2 1738 at Keighley Parish Church
Children:
John baptised October 10 1739
Abraham baptised October 6 1742
Mary baptised April 17 1745
Isaac baptised February 14 1747
Jacob baptised April 22 1750
Joseph baptised February 28 1753
Martha baptised July 23 1755
Also twins which died soon after birth.
John Butterfield snr married Mary Sharp - July 10 1760 at Keighley Parish Church
Children:
Alice bapt. May 8 1761.
Benjamin bapt. September 21 1763.
Isaac bapt. March 12 1766.
Isaac married Hannah Sugden Their two sons, John and Isaac, were responsible for creating the businesses which
eventually resulted in the wealth of the Butterfield Brothers of Keighley.
Thomas bapt. February 1 1769.
John jnr bapt. May 23 1781.
All at Keighley Parish Church.
The entry for John reads: John son of John, Lower Holme House and his wife Mary daughter of Benjamin Sharp.
John Butterfield jnr married Rebecca Crabtree (nee Spencer) - December 27 1802 Bingley Parish Church.
Children:
Mary born 1802.
Thomas born 1805.
Faith born 1807.
Thomas born 1809.
Hannah born 1811.
Jane born 1813.
Betty (Elizabeth) born 1814.
Isaac born in Eldwick 1817.
Benjamin born 1823.
Isaac Butterfield married Elizabeth Rhodes circa 1833.
Lived at Ferncliffe, Bingley.
Children
John born 1834 - emigrated to USA/Canada in 1856 (see note at bottom of this page).
Thomas born 1836.
Frederick (Alfred) born 1839.
Jonas born 1846.
Spencer born 1848 - possibly named after his grandmother's maiden name (Rebecca Spencer).
Sharp born 1850 - possibly named after his great-grandmother's maiden name (Mary Sharp).
Mary (Mary Ann) born 1853.
Sarah born 1858.
Spencer Butterfield married Emma Nicholson November 17 1890.
Children:
Alice born 1891 - emigrated to USA.
Fred (Frederick) born 1893 - emigrated to USA.
John born 1895.
Willie born 1896.
Bertha born 1898 died of measles 1900.
John Butterfield married Doris Mary Hullah in 1920.
Children:
Joan Mary born 1921.
John Spencer born 1929.
Edward born 1931.
Leonard Tom born 1938.
Leonard Tom Butterfield married Dawn Dianne Sutton 1965.
Children:
Lorraine Helen born 1966 married Mark David Charles Salkild.
Children:
Chloe born 2002.
Stephen Spencer born 1968 - Sophie Davies
Children:
Rufus Frederick born 2017.
NOTES FROM BINGLEY TELEPHONE & AIREDALE COURANT
An index of articles referring to the name Butterfield in the Bingley Telephone & Airedale Courant 1879 to 1881.
The will of JOHN BUTTERFIELD dated February 8th 1849.
The occurence of the name BUTTERFIELD in the 1881 Census.
BINGLEY PARISH CHURCH REGISTERS - 1577 - 1886
THE LOST VILLAGE OF BUTTERFIELD
EXTRACT FROM THE REGISTERS OF KEIGHLEY PARISH CHURCH 1567 - 1734
CALLING BUTTERFIELDS IN THE USA!
Are you related?
John Butterfield, a woolcomber, born 1834, emigrated to America in 1856. He arrived in New York on August 30 1856 having sailed on the steamship Samuel Fox from Liverpool. According to Alice Leng (nee Butterfield) my aunt, he is thought to have settled somewhere around Lake Superior, married a Scots woman and had nine children. He kept in touch with one of his brothers, Jonas. Up to recently this is the only information I had about John. Fortunately, Neil Shepherd of Shipley, has been able to verifiy this information as follows: John Butterfield married Flora Galbraith (or Galbrath on the marriage certificate) in Holland Landing, Ontario, Canada, on September 6 1859. Neil has also found at least six children of John and Flora. Elizabeth (b1864/5), Anabella (b1867/8), Benjamin (b1869/70), on the Canadian 1871 census.Also a birth record for Florence Charlotte in 1874, a death record for a son John who died in 1923 aged 58. His brother Frederick informed the authorities of John's death.
Please contact me at: len@lenbutterfield.co.uk
Thank you for visiting the Butterfield Family web site