The lost village or hamlet of Butterfield
On several internet sites, especially those concerned with the Butterfield coat of arms, there are references to a location called Butterfield, in the West Riding of Yorkshire. If this did exist, it would have been a small village or hamlet. There is no mention of Butterfield in "The Lost Villages of England" by Maurice Beresford, under the West Riding section of the book.
One theory is that a hamlet called Butterfield once existed near Todmorden, in the Calderdale Valley of West Yorkshire.
By chance, I came across an area where the village or hamlet of Butterfield could have been located. The area is now in North Yorkshire but in the past it came under West Yorkshire or, as it was originally called, The West Riding. On the up-to-date Ordnance Survey Explorer map, Forest of Bowland & Ribblesdale, there is a Butterfield Gap and about two and a-half miles west is a dwelling called Butterfield Cottage. The cottage is just off the Keasden Road. The area is open countryside and moorland, with scattered farms and dwellings. The area is close to the Lancashire border, which could back up the claim that the name Butterfield was also popular across the border into Lancashire.
On Thomas Jeffery's 1771 map of Yorkshire (below), Butterfield Gap is mentioned. Also, where Butterfield Cottage is today, Jeffrey's map refers to it as just Butterfield. The map shows it as a single dwelling, not a group of houses.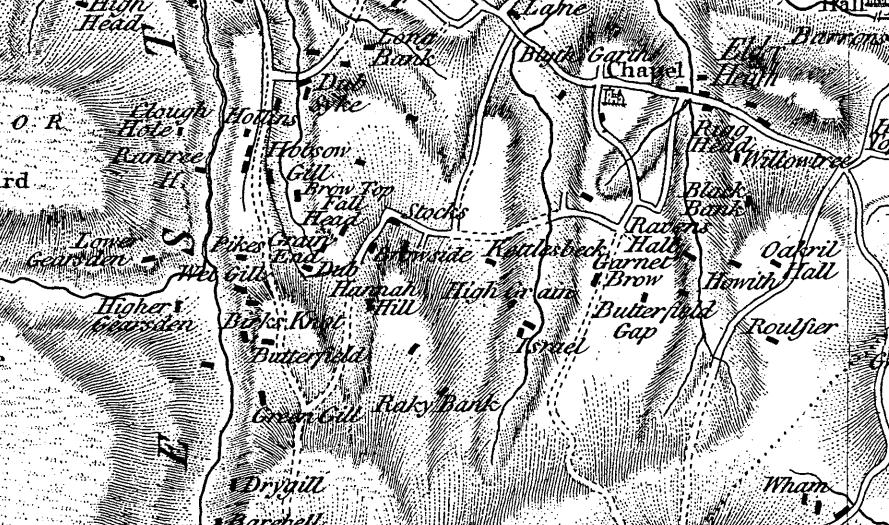 Butterfield Gap Farmhouse is a listed building - dating back to the 17th century. It was often the case that a 17th century building would replace an even older building. On Google Earth try entering the location: Keasden and follow Keasden Road south to find Butterfield Cottage. Also enter: Eldroth and move to the west to find Butterfield Gap.
Pure speculation, I know, but could Butterfield Gap have led to a hamlet called Butterfield and is Butterfield Cottage all that remains?
I would be interested to know if anyone else has any knowledge of a hamlet or village called Butterfield or a theory about it's whereabouts.
Butterfield Gap Farmhouse, Lawkland

Description: Butterfield Gap Farmhouse
Grade: II
Date Listed: 24 June 1988
English Heritage Building ID: 324191
OS Grid Reference: SD7624863586
OS Grid Coordinates: 376248, 463586
Latitude/Longitude: 54.0677, -2.3644

Farmhouse. C17, refronted mid-C18. Slobbered squared rubble, stone dressings,
stone slate roof. Central staircase plan. 2 Storeys, double fronted. Central
entrance has limewashed C17 moulded surround and decorated lintel within gabled
slate porch; C20 door. Right-hand ground floor 3-light flat-faced mullioned
window; C20 casements. Left-hand ground floor and 2 upper floor windows are
similar, but 2 lights. Right-hand gable end and left-hand ridge stacks. Upper
floor of rear contains 2 C17 former 2-light chamfered mullioned windows with
mullions now missing.
Description taken from the British Listed Buildings web site.